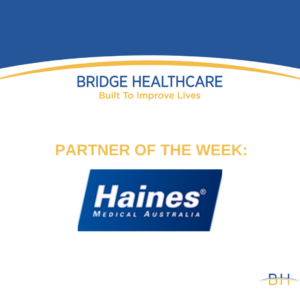 This week, we wanted to brag on one of our partners and suppliers:
Haines Medical Australia!
Haines® is a medical manufacturing and supply company, focused on improving healthcare for staff and patients through better disposable and patient single use products.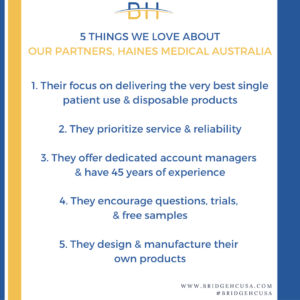 Haines' focus to improve healthcare outcomes and patient and staff satisfaction align with our mission to improve lives. We appreciate their partnership as we come together to strive for the betterment of all medical staff and patients!
"Everyone I work with at Haines is top notch. A group of people you want to do business with and I can see, Haines founder, Corey White's passion for innovation and quality has been instilled across Haines..and with that, I'm excited to grow with them in the USA." -Anthony Febbraro, Bridge Managing Director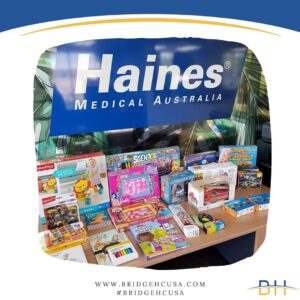 They're up to great things in their community and we're excited to bring that community impact to the states! Here's a repost from @childhoodcancr:
・・・
This week we received a thoughtful donation of toys from the team Haines Medical Australia.
The staff wanted to purchase items for our respite house, Bradley's Place. Each toy was chosen specifically to allow independent play, with the intention of giving parents a small break.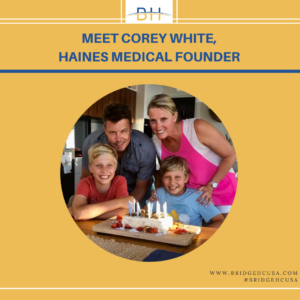 Haines Medical Australia was founded by Bill Haines in 1974 and 15 years ago, at age 29, Corey White purchased the business. Corey lives in South Australia with his wife, Sally, who is a Neurological Physical Therapist, and their 2 boys. By getting hospitals directly involved in the design of patient handling and infection control products, and by having their own factory, it has enabled Haines to thrive sales staff based all over Australia and Distribution Partners in key overseas markets.
Corey's favorite products are the new compostable trays and dishes – potentially taking huge amounts of plastics away from landfill.
Anthony Febbraro, Managing Director at Bridge, who has known Corey for about 10 years now says, "He's a Vegemite eating family guy with a good heart and great to do business with. He's become a trusted friend and, as long as he keeps listening to his wife Sally, he'll be just fine."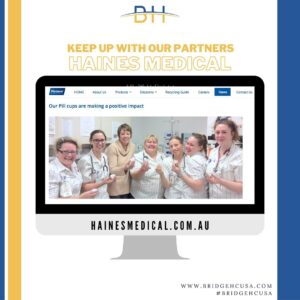 Be sure to keep up with Haines, their products, and their world impacts on their blog!
We're glad to be your partner, Haines!