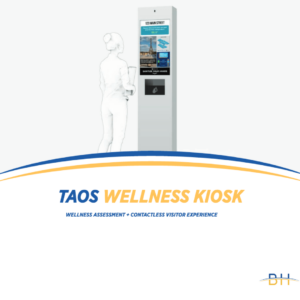 Our featured product of the week is one of the greatest products available in the healthcare world! The TAOS Wellness Solution is an out of the box, ready-to-go, multi-purpose Healthcare necessity! We have combined a digital display to provide easy to use instructions with healthcare educational images, a temperature sensor with 99.5% accuracy testing, hand sanitizer activation, all inside a progressively designed kiosk available in a variety of colors.
Its intuitive and functional design makes it extremely user friendly! Walk up to the kiosk, follow the on-screen instructions to sanitize your hands, while the temperature sensor is automatically activated with a proximity sensor. Temperature is then displayed on the screen with additional instructions or messaging as per your design specification.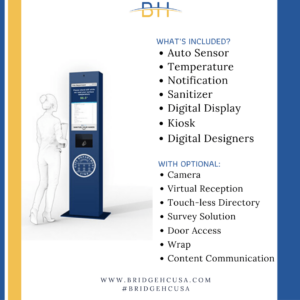 You're probably thinking, "Wow, those are some cool bullet points! What do they mean?" Well, we have your answer!
•Auto-Sensor – Sensor-based infrared
temperature thermometer utilizes FDA guidelines for 3-second average benchmark sensing and is accurate to 0.5 degrees
•Temperature – Integrated ambient temperature and proximity sensors to reduce false positive readings from the temperature sensors
•Notification – Ability for discreet notification of temperature or messaging to others when thresholds are exceed
•Sanitizer – Sensor-based contact-less hand sanitizer with integrated notifications when refills are necessary
•Digital Display – Static, non-touch HD display with options for 22" or 32" HD displays
•Kiosk – Stainless steel progressively designed enclosure provided in a variety of colors or wraps
•Digital designers – to align the experience to your brand and your messaging
Optional:
•Camera – face mask detection
•Virtual Reception – two-way communication from Kiosk to Internal call point
•Touch-less Directory – QR code enabled kiosk to phone interactive directory
•Survey Solution – ask questions, send answers to internal contact
•Door Access –Enables analog door control
•Wrap – Wrap the unit with branding, colors, logo's
•Content Communication – Remote control of messaging, marketing and events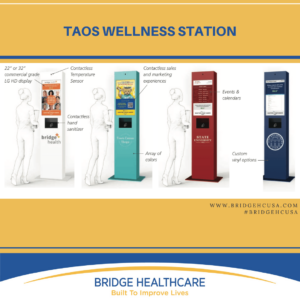 "Contactless" is a word we're seeing a lot of in these Covid days- contactless delivery, contactless payment, contactless checkout, etc. We're seeing it so much so, that contactless payments have increased by 30%, according to this
PaymentsJournal article.
It mentions that "3 in 10 consumers are "extremely" or "very worried" about catching Covid from cash and 20% are concerned about getting it as a result of paying with a card."
So why are we sharing current payment statistics? It's important to recognize that your patients are experiencing the same fears and anxieties walking up to their appointments as they are paying for their Starbucks drinks. The Taos Wellness Station is one way to significantly reduce contact in order to significantly help calm your patient's anxieties.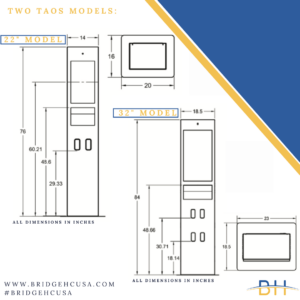 •Kiosk could be freestanding or bolted to the floor. Slim profile base included.
•Hand sanitizer is triggered by an internal integrated sensor that dispenses onto hands once movement is detected. Internal pump engineered to disperse liquid gel.
•Designed to hold a one gallon jug of liquid gel. Specific room to hold spare gallon jug for serviceability and maintenance purposes. One gallon jugs are currently easily sourced with a robust supply chain.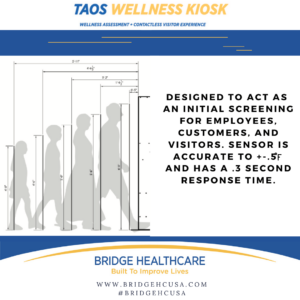 A few Taos need-to-know's:
•Universal design
Integrated infrared temperature sensor is designed to read the forehead temperature. Detects temperature of user standing directly in front of the kiosk.
•High Quality Sensor
Using the highest quality sensor on the market to deliver the best results possible.
•Efficient Design
Sensor is capable of reading user temps quickly and thoroughly. Within a half of a degree of accuracy and a .3 second turn around time makes for an efficient and effective screening.
•Primary Function
Designed to act as an initial screening for employees, customers and visitors by identifying elevated temperatures. Ensure the safety or personnel entering an environment.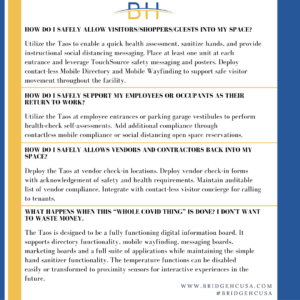 We've considered some very important questions surrounding the Taos Wellness Kiosk and we wanted to make sure you had the answers! If there's a question that hasn't yet been answered or isn't listed above, please leave it in a comment below!